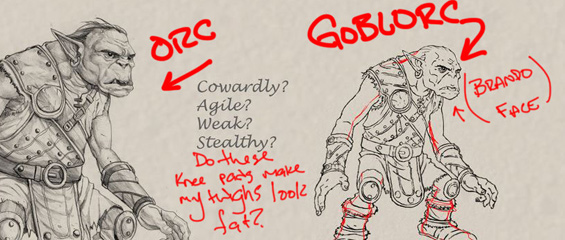 Is it just me or are things getting a little silly with some of the D&DNext posts lately? I'm not sure all of this opinion polling is doing more good than harm, or at least not wasting valuable time that could be spent elsewhere. While I am a fan of the open playtest, I'm coming to be less and less of a fan of the "does this make D&D look fat?" ethos of D&DNext media coming out of WotC.
Don't get me wrong, I think it's great that they want our input on the size of a gnoll's head, dragon hind quarters, owlbear beaks, and goblin pattern baldness, but at what point does this all become a bit much? When D&D goes from sounding like its taking a bold and boisterous new direction and attempting to reclaim its former crown, to sounding like an insecure teenager on prom night, I start to worry. Don't get me wrong I want them to ask for feedback, but I trust them as creative people and seasoned designers and artists to know where to take certain aspects of their game without asking us.
Take Your Vision, Run With It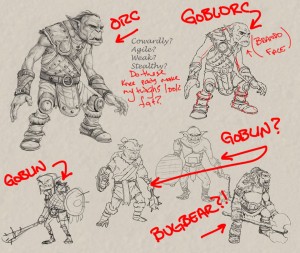 Now don't get me wrong I'm not writing off D&DNext or jumping to conclusions here, I just want WotC to do their own thing. I'm well aware this is all just preliminary idea gathering and gauging of interest and opinions. Lately I've actually gotten a lot of playtesting time in because my wife is now DM'ing for a small group consistently. I also get to see a lot of different sides to the game as a player, which is not only great for feedback but also a nice change of pace for me. The way the game is shaping up both mechanically and (from what little we've seen) narratively so far. Mark my words – I am in love with D&DNext, the game, not the wishy-washy questions or the "does this spell 'feel' D&D" questionnaires.
The idea that everyone has a voice in D&DNext is bold and pragmatic, it sounds noble, like the rally cry from a reborn king. I'm just not sure it's always as great as it's cracked up to be. I think everyone has a voice but, I'm not sure all of those voices should carry equal (or any) weight, including my own.
A lot of writers, directors, and other creative types in general often give the advice to not ask all your friends if they think something you've done is good. Mainly because if you start taking everyone's input on something you're creating you can lose your vision, or just wind up with a giant mess on your hands. Let's be honest, this is also because most of your friends are dumb, or not fully versed or appreciative of the nuance and artistry of what you're trying to create. As an artist you reserve the right to tell people to piss off and keep doing your own thing,  and this is kind of what I wish D&DNext would say when it comes to some of these things. I'd rather hear "this is D&D!", than "is this D&D?"
Mordankainen, You've Probably Never Heard of Him.
I'm just worried that some design philosophy or great new idea will get washed away from the game due to entitlement, indecisiveness, the fear of taking even the slightest of gambles, or the nostalgia goggles that could possibly sanitize the whole game into some vanilla, bastardized, inbred retro-clone of itself.
I don't want D&DNext to be LOTRNext or PathfinderNext or ConanNext, I just want it to stand up for itself and say "Hey, this is D&D!". Then we can all play it (or not) and either love it or hate it and move on with our little gamer lives. Because things like online petitions and nonstop arguing over things like how dragon wings look are the guerrilla tactics and snake oil of the edition wars. Let's just agree to disagree about petty things and attempt to give the best relevant feedback that we can.
Overall, I trust in the designers behind D&DNext, and I trust in WotC to do what's best for their game in order to make it as approachable and accessible and customizable and all of the other -able's you can think of. I'm just not sure if I trust the rest of you, or myself. I say let's move past this phase of silly questions and start asking the more hard hitting ones. Let's have another giant healing surge or save versus death debate or something, shall we?