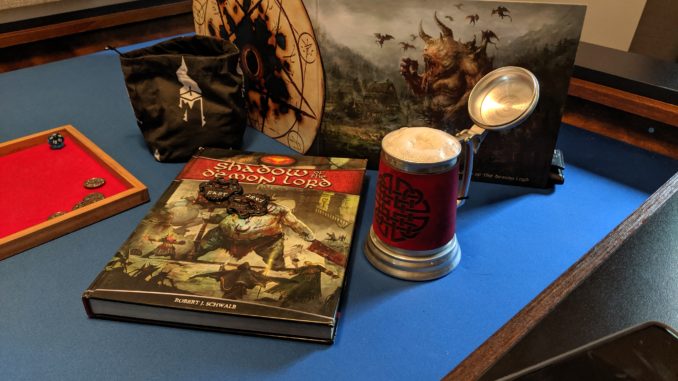 Early in 2019 we decided to finally take the leap and purchase a gaming table. It was one of those things that I'd been really wanting ever since I first saw one around 2013 when Geek Chic was really popular. It's an investment though, and up until this point in our lives such an investment was out of the question. I'm older now, my kids won't ruin it, and my financial situation has improved so we finally took the plunge on an Elite Series 3.5×5 table from Table of Ultimate Gaming.
I spent several weeks weighing pros and cons of different table makers from BoardGameTables, Rathskellers, Carolina Game Tables, and a even Wyrmwood. Knocking Rathskellers and Wyrmwood out of the running didn't take long though as Rathskellers isn't based in the US and shipping would have been absurd, nor am I a trust fund child or independently wealthy so that took Wyrmwood right off of the list. What I was left with were two very good choices – both Board Gaming Tables and Carolina Gaming Tables have mighty fine folks working for them and I've made a point to talk to people at their booths every Gencon and Origins for the past several years. Both companies had tables near my price range and it was just a matter of aesthetics and making sure my wife and I agreed on the color, features, etc.
Succumbing to Tabletop Temptation
While waffling between these two though, a third contender appeared on my radar: Ultimate Game Tables. Despite their cringey name, they had a relatively successful Kickstarter and while the feedback I was reading online ultimately said you'll save a good chunk of money with them and the tables are still plenty sturdy and made of good materials – there's assembly to deal with and the fact that they're production/ordering is backed up and when you'll actually receive your table is debatable. The price was enough to sell me though, and I'd waited this long, what was a few more months? Plus, I'd save several hundred dollars by not buying one of the more expensive tables from BGT or CGT, right? Boy do I wish I would have went with my gut instead of my wallet.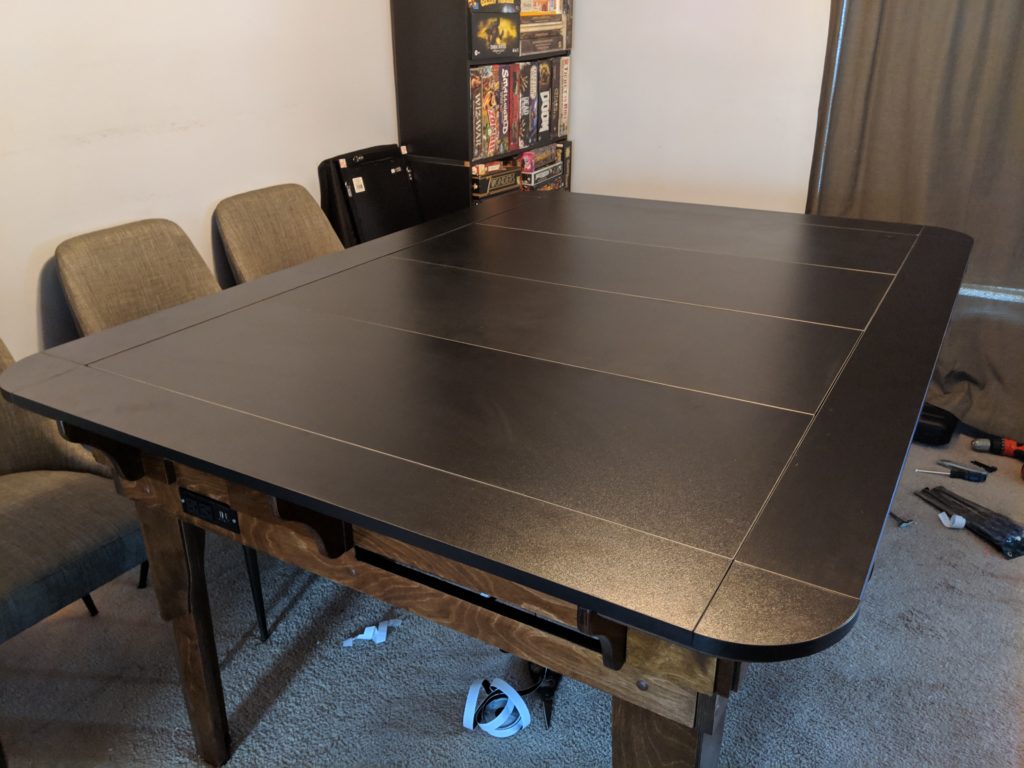 My Table arrived only about 2 weeks after it was originally scheduled to. Which, all things considered, wasn't bad especially with all the delays I'd read about online. The thing is though, I got an email from someone at TOUG to confirm my shipping address and they let me know it would be probably another month before my table shipped, it was a bummer, but at least I had an ETA and they were communicating. To my surprise, it arrived the very next week. Cool! But also, a pretty big red flag regarding their logistics.
So my table shows up the same weekend a friend is in from out of town. Not the greatest because I planned on entertaining a lot more than I did…building a giant fucking table packed in boxes that littered my entire living room. Anyway, we got the table built with relative ease and immediately christened it with some Frostgrave. Good times were had. I was happy with my purchase, and the table's construction seemed solid and went smoothly. The instructions weren't perfect, but nothing harder than something you'd expect from IKEA. At this point, everything is fine.
Well, everything is fine except the missing 4 cup holders I paid for. There was no explanation or communication regarding my cup holders being delayed, mis-ordered, or otherwise. So I reached out to the company a few days later to inquire. I was told that cup holders would arrive at a later date but there was no ETA. I replied and said this was fine and also inquired about the possibility of getting replacement boards for one that was damaged and for one of the toppers which has glue that leaked out between the cracked black veneer that covers whatever type of board is underneath.
It's not a major thing, but I just paid around $1,000 for this table and I really wanted for it to at least start out as immaculate as possible before I beat it up with dice and spilled drinks over the coming years. I received a speedy follow up saying to show some photos of the damage and boards in question, I did, and again was met with a relatively swift response/apology letting me know they'd get the replacement boards sent out.
That was 3 and a half months ago.
At the time of publishing this article we're getting close to 4 months now and I've checked in (politely) about once every 2 weeks just to try and follow up. Complete radio silence. No response whatsoever on any channel I can find to contact them on. Email. Facebook. Their Twitter is a 1-way street only used to blast out marketing. I finally just 2 weeks ago opened another ticket in case the email communication chain I had going with the initial rep was lost somehow, maybe that person left, or it got buried in whatever ticketing / CRM system they might use or for whatever other reason may have come up. I was less nice this time with my ticket title being "Stop Ignoring My Emails".
Clarity Through Frustration
Just before I published this I got a response saying there was a hold up because I never gave part numbers. I was never asked for part numbers, nor would I have known what they were either. In my inital thread I was asked for photos, which I provided. I relayed all of the photos (again) and attached all previous email correspondence back to them immediately, along with part numbers this time as well. It's been 4 days and I'm back to silence again.
So while my table is just fine, aside from a cracked and glue-residue laden topper and a dinged corner piece which I isn't very noticeable. It's not fine to ignore paying customers, just swallow your pride and have some transparency. It's not a huge deal, but blatantly ignoring the people who've already given you their money, especially when you haven't even given them all the items that they've paid for, is.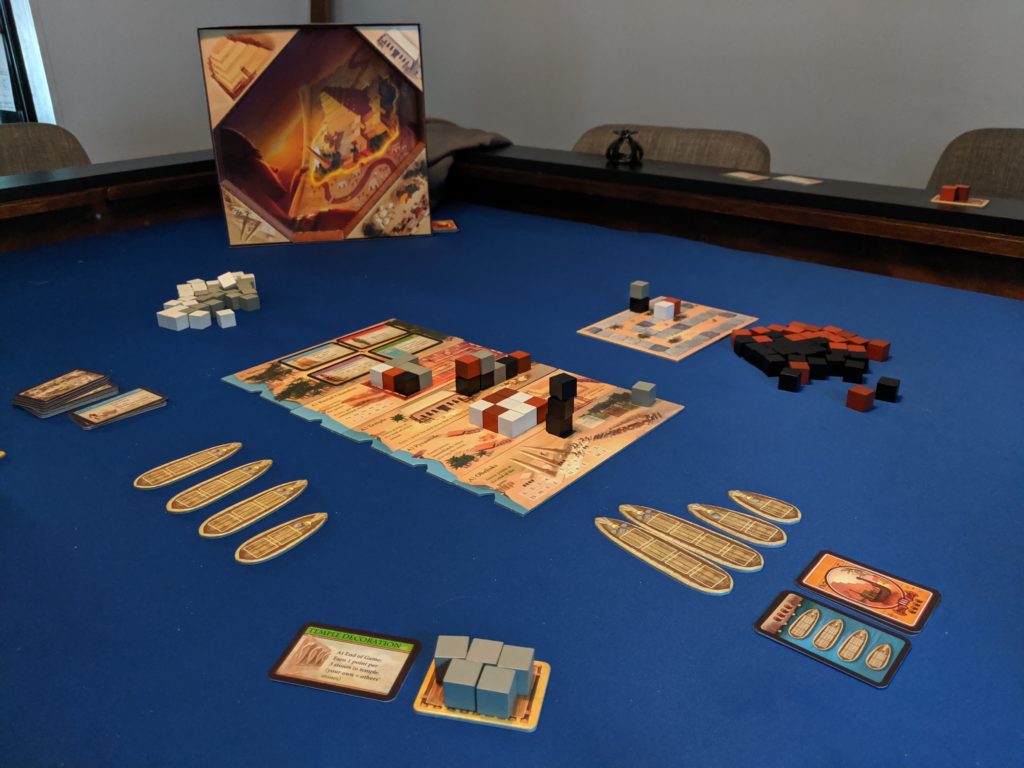 So this bad taste in my mouth has also allowed me to see past the honeymoon a bit and also break down a few other things about this table that aren't readily apparent and lead to more agitating complications. First off, the table is not as high as they say it is, it's in fact, several inches taller. This means the chairs that I purchased were far too low to sit at a good height with the table at its "deep" setting. Which, to me, is the entire point of a gaming table. I have no interest in using the shallow setting, you can't even leave 28mm minis standing up when you put the topper on that way. So now have 4 chairs that are a bit too short, and 2 that are a bit too tall. Admittedly the 2 that are too tall were my own miscalculation. Additionally though:
The power cables that run from the built in plugins don't have any type of coupler, so unless you want to run 2 cords separately, likely completely filling up a wall outlet, you'll need to purchase some sort of small surge protector / extension cord and mount it underneath the table like I did.
Speaking of cable management, I do it very frequently as a Network Admin but if you don't have experience with it, it's going to be a real pain in the ass making sure your table doesn't look like there's something out of an HR Geiger painting lurking beneath it. The provided cable management loops were extremely cheap and the adhesive didn't hold for long so you'll need to buy some of your own. Luckily, they're cheap.
Speaking of cheap, the way they prevent the toppers from being scratched when you slide them in/out of the table slots that hold them is to line them with velcro. That's right. I paid around $1k for this table and they sent along some of the softer size of a strip of velcro to pad the grooves beneath the table with. Not felt, not microfiber, not even those little foam bumpers – just one long roll of the soft-ish side of velcro.
Update 11/10/20 – After finally biting the bullet to move my too-high table down a notch I discovered that the inlays within the wood where the main screws hold the table together are damaged. They are pushed back into the recesses of the wood and the screw threads no longer grip them in some places, meaning the structural integrity of the table is compromised.
Reputation Over Monetary Evasion
All this said, I still mostly like my table and I don't regret purchasing it per se. Sure the damn thing still creaks and groans when you lean against/over it sometimes while gaming, and maybe it still just needs more tightening or breaking in but I'd be lying if I said it doesn't make me nervous. I digress though, the point of this entire article was to serve as a warning to any of you who may be about to make a similar purchase. Stick with a company that's got a good track record if you can spare the few hundred dollar difference. I'd gladly pay several hundred bucks at this point for some customer service people who give a damn.
At this rate I may never get my cup holders or my boards replaced so I'm trying to figure out a clever way to 3D print my own or something. I'm definitely open to suggestions / ideas. I'll be trying extra hard to make sure my table stays in good shape too, because I have a feeling like Table of Ultimate Gaming might up and vanish sometime real soon as their domain(s) expire in July of 2019, their social channels are dead quiet, and their email correspondence is abysmal at best. If you're in the market like I was, especially if you're here in the states, I highly recommend Carolina Game Tables or Board Game Tables as they both have great people standing behind them.

Until next time though, game excellently with one another!
Update:
On July 22nd, almost a month after writing this article, I received not one but 2 massive identical packages from TOUG. Each was a "Box #2" of the 3-box set they ship to you when you get your table. This was to replace a single damaged corner piece. 2 massive packages full of duplicate spare parts, hardware, and more to replace just a single corner piece. I'm still waiting for my topper replacement and am told the cup holders still have no ETA. I
freaked out a little
, and now have several hundred of pounds of lumber sitting around being useless. Throwing it out seems wasteful, but keeping it long term isn't an option. This company is at Gencon this year, please don't buy from them.
In addition, their Facebook page has over 25 admins and each of them are dedicated to hiding negative comments. They delete negative comments on all social media platforms that allow it, however if you want an unfiltered taste of somewhere they cannot hide,
check out their Kickstarter page
. Woof.
Update 11/10/20:
As of today, I no longer see the website for Table of Ultimate gaming online and their social channels are dead, not that they were ever more than an echo chamber for their marketing blasts. There are a litany of complaints about this company on the BBB as well as several tabletop gaming subreddits. It looks like they are completely defunct at this point. For the sake of being thorough, I have also updated the bullet points on the main article to represent some new findings I've come across after updating my table height in October. Although the company seems to be now completely gone, still keep your eyes peeled for other fly by night companies that might pop up with these people's names attached to it.