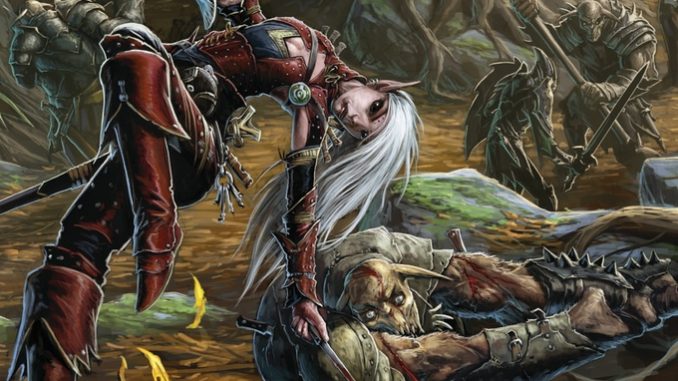 Kicking My Thoughts Out There
This post has been one that I've debated for a while now. I've debated using my blog for more than writing about writing and I think I'm finally taking that plunge with this post here. Anyway, I've had thoughts on Kickstarter in general, and about Kickstarters that I don't think needed to happen for a while now. With the launch of the second Pathfinder Online Kickstarter I've decided to finally go ahead and just spill some of my thoughts on Kickstarter in general as well as the doubts I have for Pathfinder Online. Please know that I'm not wishing ill of Paizo or trying to call them crooks or something but this whole thing just doesn't sit right with me. Here are my reasons why.
Wait, Didn't This Already Happen?
Yes. No. Well, yes and no. The Kickstarter that already happened wasn't paying for the MMO itself but rather just a single piece in its development process – the tech demo. This was made to show investors that they actually had something on their hands, a proof of concept, and a really great (or dirty, depending on how you look at things) business idea by the Goblinworks team. Do you have enough interest to raise money to put this together? Sure fans weren't really getting a game but they were offering exclusive Pathfinder adventures as part of the backing, which I'm sure landed hook line and sinker for lots of die hard Paizo/Pathfinder fans.
What about this time around though, what funds are they asking for now? They've proved the concept, proved that there is interest, and stated that the game will get made regardless of whether the project funds. This block of funding is to create the actual game, which is part of their 'revolutionary' game development process. There's an FAQ list as long as the Nile but many of the answers given are fuzzy ones at best. Of course the project is infantile at this point so the answers can't be too concrete, I still just don't understand why this whole endeavor is necessary.
Stretch Armstrong Goals
A 2.5 year investment before you even see a beta? Sorry but no thanks.We're already talking about a million dollars here aren't we? When Kickstarters have stretch goals planned ahead I'm always put off a little – especially when the goal is a million fucking dollars. I'm not talking about "if we go beyond our goal, we'll come up with some stretch goal ideas, here's a few we already have in mind". I'm talking about the road map to thousands and tens of thousands of dollars over their goal. There's nothing wrong with confidence but in some cases I just feel like I'm getting a sack pulled over my head and beaten silly just because the kickstarter creators are so full of themselves.
What about the return investment on backing this kickstarter? Sure you get access to input on the game and the community, but you're waiting 2+ years to play anything tangible if they keep on track and you have to spend 100$ or more to get into said beta? The other less expensive backer levels only offer access to open enrollment. I'm sorry but I don't have the kind of money to drop and wait around a few years to hope something turns out. If anything I'll wait for the game to be out for 6 months before I throw money at it.
Do Big Companies Really Need Kickstarter?
Double Fine? Penny Arcade? Really? I'm not sure where Kickstarter is headed but somewhere along the line they lost sight of their vision of community and getting indie projects off the ground and just started seeing dollar signs. Kickstarter is loaded with crap. Literally. I'm not sure where Paizo falls in line here, obviously they're not a Double Fine or a Penny Arcadebut they are a successful company that I think would have enough capital do to this on their own, or at least enough interested investors that they shouldn't need to be crowd funding a million dollars. It just seems like a money grab to me. Why spend a million of your own (or your investors) dollars when you can spend a million of someone else's dollars?
Room for New Adventurers On The Block?

Is there a payment model beyond "there will be subscriptions"? What type of game are they aiming for here as far as avoiding power creep and number games that almost every MMO in existence faces? How will they compete? Launching an MMO is a tough race to run in, and especially hard to not fall flat on your face while running. Obviously, I'm not alone in my thoughts on this after seeing this tumblr from Chris Pramas of Green Ronin pop up today. I"ve been playing MMO's since the tail end of Everquest 1 and I've purchased a lot of games that I played for the initial free month and never looked back after that. I either returned to my MMO of choice, or stopped playing for large chunks of time entirely. No offense to Paizo but they don't make video games, they make tabletop games and despite the numerous paralells between those two things there are far more disparities than you might think.
The medium of electronic vs tabletop is one that is closing more and more as time goes by (with board games, card games, etc.) but I'm not sure that full blown RPG to MMO is something that's still yet to be done right. Look at D&D Online's numbers (last checked 1-2 years ago), they aren't great and they only got better after the game became FREE. That is the most popular tabletop RPG to ever exist and it has 1 million users, compared to Warcraft's 10? I'm not sure how Pathfinder is going to stack up.
Listen, I'm a gamer through and through, I've been playing video games long before I was ever rolling dice, so I can at least vouch for being knowledgeable in the video game facet of gaming more than any other. However there is so much "this is a really bad idea" lurking in my mind about this whole project that I just can't shake and I wish that I could. I wish I could get excited about yet another possible gateway for people to transfer into the tabletop gaming world. I don't wish Paizo harm by any means, but I just don't see this ending well…at least not for the people who want to play Pathfinder Online.
Money Doesn't Make Good Games, Great Designers Do
I don't understand the mentality behind "More Money = Better Game, Faster To Shelves". Perhaps it will get it out faster but I seriously doubt any amount of money can make a game good. When you create things you take a risk, you put yourself out there in hopes that other people like the thing that you made and that they want to pay you for it.
That's how the arts work, art is only worth whatever people want to pay for it and if you don't have much to lose…let's say oh…a million dollars…then what are you risking? Sure you're risking your reputation but by how much? I just think that most awesome things come from blood, sweat, tears, and a gamble. In this case it seems they are wanting to gamble with the wallets of their adoring fans and I just can't get behind that. Pardon my pun here but the whole thing really just seems like one huge roll of the dice if you ask me.
Stretch Goal: Your Commentary
There's a lot more I'd like to touch on here but at this point I'd like to open this up for discussion now. Micah and I just podcasted about this last night on Haste. If you don't feel like heading over there, you can do it right here, give it a shot right here and then drop me your thoughts. I welcome any oncoming debate!
(from the Haste Podcast, Subscribe!)