The Wind up
At DDXP this year I was given the opportunity to sit in rooms full of awesome people from WoTC, Baldman Games, Freelancers and other generally awesome folk (Tracy, Matt, and the guy with the southern accent who's name I've forgotten already [sorry!] – I'm looking at you!). I got to ask them annoying questions, beg for autographs, pick their brains and most importantly game with them, all the while attempting to contain myself and resist the urge to squeal with childish delight.
I was able to see a lot of upcoming and even some top secret stuff, which was awesome. Since I signed an NDA however, I won't be telling you about any of that awesome, top secret stuff – because I'd have to kill you. Seriously. Or perhaps just because the Legend of Greg Bilsland is so rife with peril that I fear for my own life. So I'm here to tell you all about the awesome new despair deck, because I can talk enough about to entice you with it's splendors and not have to fear being caught crossing one of two gentlemen who regularly play catch with the earth.
Aaaand The Pitch!
The despair deck is a set of 30 cards that will come with The Shadowfell: Gloomwrought and Beyond boxed set, due out this coming May. There are 3 types of cards within the deck centralized around one of three core emotions; Madness, Apathy and Fear –  all of which are aptly named for the mechanics that stand behind them. The way the cards work is basically as follows: you draw a card, more likely than not a slightly detrimental effect is bestowed upon your character, you must try to overcome it and when you do, something good happens. There's some great flavor text that goes along with each card that is usually an example of something your character might say while under it's influence.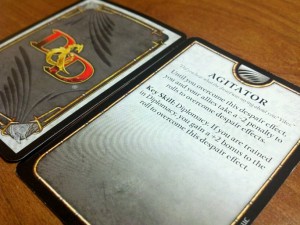 You carry the effect with you until you reach a milestone, at which point you make a saving throw and if succeeded, the debuff is lifted and you are granted a boon for overcoming whatever weight was on your shoulders. Most of the cards detail that if your character is trained in a certain corresponding skill, they will gain an added bonus to the saving throw made to shrug off whatever melancholy or skiddish effect they may be under. You also do not have to reveal your despair card(s) to other players, keeping it a secret can be half the fun.
The deck can be used at the beginning of each adventure as well as in multiple places throughout (DM discretion), such as certain rooms or perhaps after particularly poignant events (ex: trapped in a maze, a fellow party member dies, the characters becomes lost, etc.). There's also no telling when you'll come across the next despair inducing moment so there's a chance you could have multiple effects, both good and bad on you simultaneously.
The Deck In Action
I found that the "detrimental" effects of the despair cards were actually more interesting and fun than anything truly hindering or game breaking, the effects are truly minor. The boons that you receive after overcoming them are also minor but add a great bit of flavor and sense of reward to the play experience. What I absolutely loved was the role playing that accompanied them, because by each player acting accordingly to the mechanical bits behind their card brought about an almost intrinsic role playing experience that was fun and easy to pull off.

Another thing that really makes the Despair Deck shine are the three different emotions that the cards are grouped into, which simultaneously allow the DM to really emphasize just one or two of the emotions within a certain piece of the story or encounter. This will still allow for some randomness and potentially great role playing opportunities while not makign things seem too out of place.
For instance if the PC's wander into a foreboding graveyard where apathy or madness may not seem quite appropriate – the DM would present to them a truncated deck containing only the Fear cards. Another instance might be, perhaps a place where a dark blood ritual once ended horribly, players would only draw from a deck comprised of Madness and Fear cards, but not Apathy – you get the picture.
"So is this basicall Ravenloft for 4e?"
To clarify, a Ravenloft 4e product was never actually on any product release schedules, or given a slated date of any sort – it was an idea that was explored (as I'm sure many, many others are) that did not come to fruition. However the Shadowfell materials will be a great resource for those of us who want to run Ravenloft-esque games wrought with tension and horror, the entire idea behind the Shadowfell is that it is more than just a place but an force that permeates your very soul and effects your emotional state, very much like the Ravenloft mechanics of yore. So is this Ravenloft for 4e? No, but it might be exactly what you're looking for.
It's in the cards
Which brings me to touch on one final thought: "Cards in D&D" – a rather hot topic lately and one that I've until now, taken a side more towards being against than in favor of. Power cards for Gamma World? Sure. It's random as hell and let's face it you're probably going to die anyway. A set of cards that is non collectible such as the despair deck, one time purchase? Sure, sign me up! But collectible cards for my D&D game via random booster packs? 5 days ago I would have said Hell No.
However after a night of playing with fortune cards I realized not only can they have many more uses than just for D&D Encounters players and power gamers, they could be used as a real incentive/reward in my home games. This places some cost burden on me, but I don't mind because I love this hobby and I love my players (literally, for some of them). Oh did I also mention they're fun and saved my ass from certain death?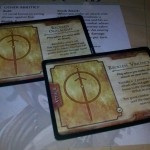 I realize that you now all think I'm playing the devils advocate because I just spent a few days hanging out with the people whose livelihood may depend on such products gaining popularity. However, now my best advice includes "don't knock it till you try it" and "if you don't like it, vote with your wallet" as well as many other vague and cliche statements. In all seriousness though, cards being used in RPG's isn't exactly a new idea and has been around long before CCG's existed or even became popular – calling it a money grab may be unfair.
Yeah 4$ for a pack of cards seems heinous, but isn't paying 5$ for starbucks, cigarettes, or your 50th set of polyhedral dice? If gaming is a vice at least it's one that gives back – through community, friendships, fun memories and challenges conquered. I've had a weekend here playing with these folks that I'll not soon forget. I hope you enjoyed reading about the Despair Deck. It's almost 5am, I'm off to bed.