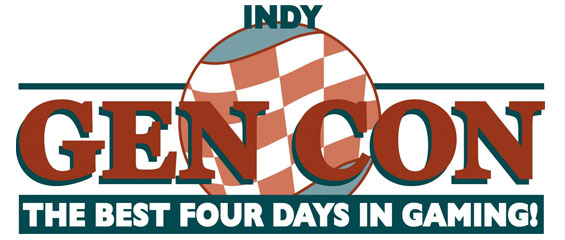 I've learned quite a few things during my first adventure to GenCon, so I came up with what I think to be the 10 most important things for your average con-newbie to know before embarking into the epic sea of awesomeness that is GenCon. I hope it does someone some good, I hope my experiences can help others avoid some of the pitfalls I ran into along the way
Bring Cash: – most booths do take credit but some of them do it manually. Security concerns are an issue along with possibly waiting days for it to show up on your statement. Also some booths have a minimum purchase amount for credit.
Bargain Hunters: The final day is the best day for deals, most vendors want to haul/ship back the least a mount of product possible so prices get slashed and bargains surface.
Parking: Avoid parking at the Hyatt or other hotel garages, the Circle City Mall parking is much cheaper, also parking prices increase on certain days. Also obviously – arrive as early as possible if you want any chance at a decent parking space.
Priorities: Avoid eating at ritzy restaurants with special menu's unless you're really into those kind of experiences – that expensive dinner you just bought could have been a kickass board game or a sourcebook!
Plan Ahead: Hotel rooms, events you want to see or attend at the convention, study the map of the venue, pre plan parking (if you're staying a bit out of the way) and eating arrangements and book your hotel way in advance or get the shaft at a Comfort Inn like I did. If you're going with a group get a suite room with a kitchen and cook some of your own meals and just split the price of your hotel stay amongst the group.
Bring a bag: Girls have purses – if this is not an option consider  a backpack,duffel bag, messenger bag, etc. Pack it full of drinks and snacks so you don't end up paying 4$ for bottled water or 5$ for a slice of pizza. If this isn't an option, hit up the vending machine areas – the ones away from all the attractions are the cheapest.
Shoes: Get a new pair or bring the most comfy ones you own, because if you're pulling a 4 day venture into the depths of the con you'll want to be comfy. Bust out the Dr. Scholl's your feet will thank you later.
Kids: Leave em' at home! Obviously this depends on the age and demeanor of your child, but I being the amateur father that I am thought my 4 year old could hack 4 days of walking, crowds, standing still – etc. This isn't something that probably applies to many of you but I won't be bringin my son back till he's a bit older – most of the games and activities aimed at kids are ages 6+ really (IMO)
The basics: Obviously load up on batteries, hand sanitizer, phone chargers, and whatever other consumables you might be needing. I was told on twitter that "Purell is the healing potion of conventions" which is ultimately true.
Comfort Inn: Particularly the one I stayed at will feed you poison bagels and leave you with a comforter full of turd stains. The internet was slow but at least the signal was strong. The guys at the front desk were fresh out of high school and a large portion of the hallway lights are burned out and the corridors felt a little dungeon-like. Overall the stay was okay but I'd rate it's quality somewhere above a snuff motel you might get killed in, in a horror movie and somewhere below a mid-class run o' the mill stay.