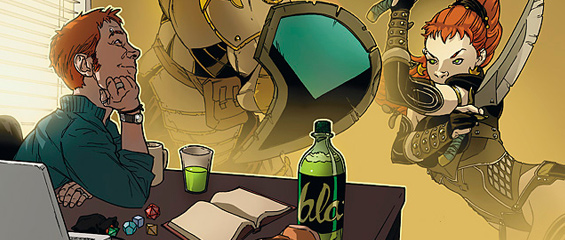 1000mg of Honesty
Without naming names or giving disrespect to anyone, I can't stand most D&D blogs lately. There are a handful of great ones, many of them I have in my links section, and definitely a few I know I'm forgetting or didn't link to for the aesthetic purposes of my footer. However the echo chamber that is the D&D blogging community is something I just can't fall in line with anymore. Posts full of charts and graphs about combat speed, placid vanilla content (ex: 5 new species of dire squirrels), blatant 'sponsored by' tweets or posts, the endless debate of the action economy or any other extremely granular diatribe about things easily fixed with a house rule or a shrug of the shoulders – are all things I could honestly care to never read again.
The community has long been influencing what I feel I should write about or how I should express myself in relation to my favorite game. I'm done with that. I don't mind if I come off like some kind of D&D iconoclast to be perfectly honest, not that it's what I'm aiming for. I'm not sure why the hell I've been trying to follow along so much with blogging, it's not like I'm going to win some internet popularity contest and it sure as hell doesn't put food on my table. I've always had trouble fitting in, even within niche gatherings and I've always just attributed it to thinking that perhaps I'm just a horrible person, but I know that's not the case. I'm floundering to fall back into the right groove, and it's a hard pill to swallow.
What I'm trying to say is that while I loved my time in the limelight from Revenge of the Iron Lich, and I've written my fair share of decent blog posts about the this and that's of D&D, I'm no longer going to feel obligated to just follow the crowd. I have so many half-written blog posts in the can here that I'm either afraid to publish, or just unmotivated to do so because I'd just be chiming in on another subject that resembles a horse with 0 hit points. Do I feel some strange obligation to write about these things? Yes, and that's exactly what I'm trying to shake off. Am I saying I won't write about them at all? No.
Not only for these reasons do I feel its time for my writing to change, but I want this blog to have purpose, to give me a voice. I want to be more professional and less "me too". I'm never going to tell people how they should play their game. I want to just be open and honest while refraining from abrasiveness, instead of sanitizing myself for fear of what people might think of my raw opinions on something. I don't claim to be a genius of any sorts, my blog posts often pose more questions than answers and I'm okay with that. I hope you are too.
My Cliched Backstory, Minus Dead Parents and Heroics
I'm not a typical geek I suppose. From what I've gathered recently, I've come to the conclusion that I'm only about 50% geek, the rest of me is… whatever. Did I grow up on D&D, computers, video games, and 80's cartoons? Hell yes! But I still don't know (or care) what a TARDIS is, or even remotely care about whatever ubiquitous geek celebrity is whoring themselves out for this week.  Not at all. I've never watched any Star Trek, Monty Python, Buffy, Firefly…the list goes on. The mere sight of Anime in any form causes blood to seep from my pores in a blind rage. I could go on but you get the idea, I'm a grumpy, narrow-minded, piss poor nerd who doesn't know every cool inside joke or secret handshake in the geek community. And I don't care.
However for all of these things that I lack in the nerd department I fill in with other annoying yet equally passionate aspects from my life – music, movies, parenting, paintball, the horror genre, and computer nerd fixations. I could talk for hours on end about any of those topics, just not here. For these reasons sometimes I feel like an outcast in our community at times, I know it's not a big deal but it feels like it more often than not. I'll admit it – I want to fit in. I want to become popular and successful in some capacity in this community, who doesn't? I just want accomplish these goals by doing my own thing now.
Our Community Has Dark Alleys Too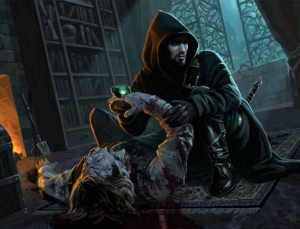 Speaking of popular and successful, I'm lucky to be friends with so many of you out there in our community who are both of those things. I won't turn this post into name-drop-a-thon 2012, but you all know who you are. Some of you in particular have really turned into steadfast friends I consider among the very best a guy could have. I look forward to any time I get to hang out with people from our community, and yearn for those times again immediately after they've passed.
What bugs me about this community we are in though, is that these extremely talented  and successful people are at times the victims of complete and utter bullshit. I'm going to be very candid (yet tactful) from here on out and may even call people out on said shenanigans. The RPG "industry" is in fact very small. There is an extremely fine line that separates 'fan' or 'gamer' from 'game designer' or 'industry pro'. Treating people like mud under your boot and then washing your hands of them like nothing ever happened, or unabashedly using them for said talents, only to speak to them when you need something is odious and deplorable. Yet I've seen things like this happen all too often in my 2 years here, aren't we supposed to unite together in our common interest? Isn't that the whole point of our community? These things can't go unnoticed for long. I can't stand to see talented folks have their work taken for granted because some egomaniac wants to make a few extra bucks or page hits.
Losing My Niche and Finding It Again
I can't wholly latch on to one thing that defines my blog like others can. I can't just write about props, or encounters, or monsters, killer adventures, or gender debates. I'd love to have some kind of defining crest placed upon my blogger head but my interests are very wide in breadth, and at times quite shallow in depth. I think variety is the spice of life, jack of all trades master of none, you get the idea. Perhaps I could call myself a master in a few areas, but not many. I suppose my niche isn't a niche at all, maybe I have some gonzo style I can't avoid honing in on one thing. Writers ADD? Maybe some day I'll fall into a more focused niche. I'm not entirely sure. Though I can tell you what I'd like to be doing.
I'd like to be blogging about some form of D&D that I'm actually playing, which I can't right now. That will change soon enough though. I'd like to be blogging about the latest Legends & Lore article with honesty and candid thoughts on whatever it is without fear of being ostracized by other bloggers or worry about stepping on someone's toes. I'd like to be regularly publishing content like adventures, a book of monsters or traps, or even a campaign world. I'd like to get into doing full publications – I feel that the time frame on projects like those really allow me to hone my work into something more focused and conclusive, instead of feeling obligated to blog X amount of times per week. I'd really like to becoming part of a 3rd party press setup that puts out quality gaming materials. My one page dungeon is a good example, it was hard for me to truncate myself but it really opened my eyes to something I truly love. I hope you enjoyed it too.
A Bloodstained  Map and Apologies
I hope to accomplish all of these goals. And while I'm not sure if this post does anything for anyone but me, I felt the extreme need to write it. I realize there is some juxtaposition in what I'm trying to say here but, just know that I'm trying to change and focus my efforts toward bigger and better things. I yearn for rational D&D discussion and common ground once again, I could go back to writing about 4e but I'd really prefer not to. I hope that doesn't upset my readers but I can't find fun in things I can no longer put my heart into. And we should all be writing to enjoy it, right? I don't mean to step on toes either, if you write blog posts full of graphs or 'topic of the week' matters, etc –  I have nothing against you, and I truly hope you are enjoying your writing. It's just not something that really appeals to me right now, I didn't write this post to discredit anyone's hard work or passion by any means.
To wrap up I just want to say that I hope this post makes some semblance of sense, and thanks for reading if you've made it this far. Obviously I could use some input here so if you have any questions, comments, or thoughts please leave them below. If they are of a more personal nature you can always email me. Thanks again, and stay tuned.