"Where Gaming Begins"
Last week was my second ever Origins Game Fair, this time we took the family with us for my daughter's first ever convention, and my son's second. It was his birthday, and it was father's day weekend – our whole family loves games so it seemed like the perfect trip. My son dressed as Gandalf, and my daughter was dressed as Firestar, the awesome levels were already pretty high. Now, fits and adolescent stamina issues aside I want to talk about what the con was like. What I enjoyed and what I didn't. Cool games that I saw and some other stuff so let's begin with the good stuff!
The Good!
Something for Everyone
Origins is by far one of the most kid-friendly cons that I've been to. Lots of little people, a dedicated kids area and lots of activities for them to participate in. You can even drop your kids off in the kids area and leave them to the officials but I'm still not that comfortable doing that. My reasons why I'll explain later. Overall the show is pretty big, mainly focused on board games but you'll see gamers from all walks of gamerdom here so don't be afraid if board games aren't your thing there's also RPG's like Hackmaster that had a booth, the guys who put together Rotted Capes were there, and a lot more.
Learn New Games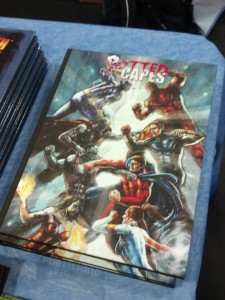 There were tons of demos going on and lots of games to learn, but not all of the booth space was being utilized by enthusiastic folks (I'm looking at you Asmodee), so if you want to just wander around and learn to play some new games have at it, there are also some great specials going on, giveaways, and chances to win free games too. The coupon book for Origins was quite good, I'd even say the offers inside were a bit more enticing than the usual Gencon fare. There's also quite a bit of prototype gaming going on, Origins is the premiere spot for quite a few board games to make debut and to go up for sale exclusively where you might not be able to find them elsewhere like Castle Dice, more on Castle Dice in another post later this week or next.
Great Publishers, Great Games
The very first 20 minutes of our Origins experience was spent demoing a game called Castle Dice by Fun to Eleven games, it was great. It's a dice drafting game where you are trying to build up your kingdom/castle and avoid barbarian raids and manage your resources. My son even kind of caught on to the mechanics after our 3 turn demo and obsessed about the game for the rest of the con. Hopefully I can bring you a review of this kick ass little game sometime sooner rather than later.
The Fun to Eleven guys were awesome as were the folks at Indie Boards & Cards were demoing their Avalon version of The Resistance and Gauntlet of Fools. AEG was also out and enthusiastically demoing games for people, among a good handful of others like Mayfair, Queen Games, and Catalyst just to name a few. Unfortunately not all of the show floor presence was as enthralled to be there…
The Not-So-Good
Unenthused Publishers
For the most part, a lot of publishers and vendors here are very enthusiastic and represent the best spirit possible in gamer culture. The people from Indie Boards & Cards and AEG and Queen Games are all just out there trying to reel people in and check out their games. The folks at the Catalyst booth will talk Shadowrun with you until the cows come home…but some just don't seem to care. I lingered around the Asmodee booth numerous times hoping someone would approach me about the games I'd been staring at for minutes on end but no dice, it wasn't until the last day of the con that I actually saw anyone there demoing anything for con-goers and they didn't look too happy about it either. Yeah Asmodee – Dixit, Seasons, all of these super colorful and extremely fun and family friendly games seemed to have the least-interested crew at the show. I don't understand why publishers would do this but hey, it just meant I spent more time talking with others.
Child Care Is Iffy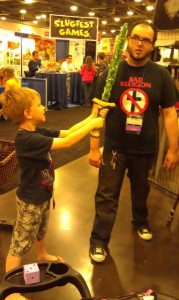 The people at the child care area were very nice, and very helpful but a few of the folks there very slow on the uptake with a few things. I'd prefer the people supposedly watching over my children to be slightly less clueless. The back door of the children's area was wide open to lead to the bathrooms but that was also where some rambunctious box playing was going on, any of those kids could have slipped out the back door at a moments notice if an adult weren't looking directly at them. Not to mention that the adults were outnumbered by children about 5:1.
We used the children's area to take a breather, as a rest stop if you will but we'd not even think bout leaving our kids alone there, not necessarily  that something bad would happen and probably more so that we're overprotective but still…they could have had a better more organized setup. That's okay though, we kept them with us the whole way through and also managed to play around with the LARP weapons for shits and giggles, the kids thought they were awesome.
Wrap Up
Pricing, Registration, Advice!

The show is $20 per day, per person if you register on site. Saturday was "family day" which brought that price down to $10, all kids ages 9 and under are free too. On Sunday the prices go back up to $20 though which seems kind of crappy but I understand their prerogative of doing this. Also, with all conventions keep in mind that if there's a game you want and it's not one that's flying off the shelves like the new Smash Up expansion or Love Letter from AEG you can probably wait until the last day of the con and get a deal. Lots of publishers and vendors don't want to haul home any more wares than they have to so they try and lighten the load with sales. If you're looking at a popular game that might fly off the shelves fast, get it and don't hesitate! I missed out on Galaxy Trucker for $40 because I decided on Friday that I'd just come back Saturday and get it…nope!
If you have a blog like me or work for any sort of gaming media outlet that does regular coverage of these sorts of things you might be able to get a press badge which would grant you all-access to the convention for the entirety of the show but remember they will want your coverage emailed to them afterward. You can't just fake being press, unless of course you want to put black marks on your name. This might save you a few bucks but I'd not recommend doing it unless you plan on covering the show in some capacity. My best suggestion really is to pre-order your badges.
Per typical con advice I'd say plan ahead, and come early. I plan on going to Origins next year again, sans children, and I hope to see you there!