Video Game Analogies, Because I'm Dumb
Yesterday a comparison came up regarding old game design ideals and the evolution of these things in general. My immediate thoughts was that if 'new' design consists of things like hour long hand-holding tutorials we see in modern video games? Is it when a game is so damn easy the whole thing feels like a tutorial? If that's the case then I want no part in it. However if it's something else entirely, then I'm all for keeping an open mind.
Is 'new' design having to fail 3 death saving throws along with 5 other constraints for a PC to actually die? I'm not truly a fan of all of these safeguards but if that's what floats your boat, be my guest! Upon my snarkification of the subject Kato from One Inch Square gave a few great examples of "bad" design elements: high scores, extra lives, and running out of continues. The problem with this was is that my response was "Yeah? I love those games!" I think elements that give finality and the hint that complete and utter failure can be just around the corner are ones far too removed from many gaming mediums these days, I'd like to see them make a comeback.
The Illusion of Change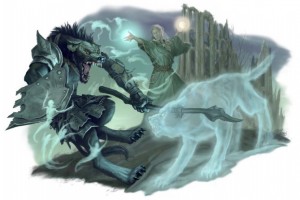 Despite the good analogy I found that even those elements have their modern day translations and exist just beyond the veil of semantics. High scores are "leaderboards" and things like stat tracking of kill:death ratios or whatever other means of pissing match fodder game creators inject into their games. Surely "achievements" are just as if not more meaningless than a high score board, especially when you consider that acquiring a good portion of them are done so by completely arbitrary means. "Congrats, 25 achievement points! You beat all of level 3 in your underpants, on a Wednesday, with a pelican on your head!" Extra lives and continues still exist when the game rarely puts you in a position that a checkpoint or ducking behind cover for 10 seconds wont fix. I think things like this still exist no matter what kind of pretty face we paint on them. Of course they don't exist verbatim so much, but they still lie within the lines without a doubt.
Which brings us to: what is "good" design? The sentiments that surround these ideals are in a constant shift, and I'm not talking about out there in armchair-design blogger land. I'm talking about internally at places like WotC, or even big shot video game devs like Valve or Blizzard. We are constantly producting, evaluating, adjusting, and re-producing games and the ideals that comprise them. It is only natural of gaming and game design, yet there is something more granular here I'd like to touch on.
The Good, The Bad, The…Good?
Let's take the monster manuals or essentials as an example here, comparing the early days of 4e to these books later released we see some themes: mathematical changes, layout facelifts, mechanics become more slightly muted while narration gains precedence, and the gernal streamlining, aggregation, and truncation game elements. Obviously these things were all a product of feedback, refinement, and emotional investment that both we as consumers and the devleopers themselves have in the game. These were largely regarded as improvements to the game (essentials is debatable by many, but let's not go there now).
Now let's take some elements of "bad" design and discuss them. Hmm let's not beat around the bush and use …Fourthcore as an example here. It's dungeon-centric, extremely niche, unforgiving, unfair, and both accepts and encourages metagame knowledge as part of the play experience. By many far and wide this is all a giant bundle of 'terrible'! But why was something so terrible an ENnie nominated publication alongside Paizo products and other big names? Why did WotC attempt to begin catering to this niche with Lair Assault? Was it really all bad? Does the status quo or do talking heads of D&D have too much influence over what people feel is acceptible fun for their games? I think so.
What I'm saying here is obvious, if you find something fun in your game just take it and run with it. You don't need the approval of anyone, anywhere, aside from your gaming group of course.  What defines game design as good or bad is wholly determined by how we perceive it, and how much weight we add to the words of others. What is generally accepted as "good" today may be seen inversely tomorrow. Do what you like, and in all manner of discussions of game mechanics remain open minded to the fact that gaming groups other than yours do exist, and they may very well love what you hate and hate what you love. Just move along, different strokes and all that.
It's Your Game, It Always Has Been
What I'm getting at here is that regardless of wether you deem save or die as "bad" design, it's still design. As long as a game element is created with a facet of the player base in mind it is not bad design. It is simply design. If you feel it's bad, or doesn't work for you or your group then by all means don't use it. There's already enough things out there to fragment our fragile little community, bickering over whether step and die is superior or inferior to a climactic spotlighted moment death throws is neither here nor there.
For the record I am for save or die. I don't think every character is a special flower. Life is fragile on all accounts and adventuring is deadly business. Every PC can't make it out alive to become fucking bard songs. But none of this means that I'm going to verbally fight any of you to the death about why you should like it or includ it in your game or not.
Like a lot of other game elements and modularity we're constantly talking about when it comes to D&DNext, this is all of course optional. There has been much debate over whether it will be "core" or not, and to that I say who gives a shit? If something is defined as core in a modular system, you can just unplug that core and fill it with whatever you want. How is option A any more or less significant than option B? Is it because option A is presented first so it's assumed to carry more importance than the others? Are they not simply both…options?
I can't even fathom why people get so worked up about this stuff. However even if this is not the case and some how "save or die" is embedded into every fiber of the game and zero alternative options are presented, I think we'll allmake do won't we? I trust all of you, each and every last one of you to be smart enough to devise something that works for your group. I may not have faith in the D&D community when it comes to alot of things but there is a small handful of a few things I can be sure of, and in this case it's creativity.