Encounter Building Sacrosanct
What I'm about to suggest to you, some may consider sacrilege. It may be mechanically unsound, "unbalanced" or just plain stupid depending on whom you ask but I'm going to say it anyway. Abandon the XP budget.
Until recently I think I was doing what perhaps a lot of other DM's are doing when sitting down to build an encounter, I'd look at my setting and perhaps think about what kind of denizens/traps/terrain I wanted my players to encounter and scoot right over to the XP budget chart to plug things in. I mean, had a general rule of thumb about how I wanted things to pan out, not saying I looked at "500xp" and thought "how many skeletons can I fit into this" and stopped right there, but it wasn't really all that far from it either.
Thinking Outside the Chart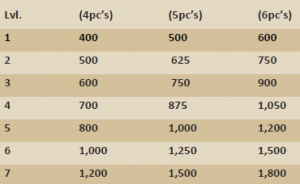 Stepping out of my encounter building box and looking at it from an external perspective makes it seem like a very mechanical process. I have X amount of space, what can I cram into it? I found myself hunting for target numbers instead of target experiences for my players. It felt like I was trying to figure out if there was enough save "blocks" left on my playstation memory card to fit in another Diablo savegame.
The whole idea seems a bit counterproductive to making well thought out, detailed, interesting and evocative encounters. Well structured? Yes. Creative and inspiring? Not quite so. Sure there's nothing wrong with structure, but I'm a free form "just go with it" kind of DM. Sure there are times when players want to walk into a room and beep bop boop – kill some bad guys and walk away with treasure, and that's fine but in my games those types of encounters are far and few between, mainly because of the yawn-factor.
What it is, what it isn't
Now I'm not trying to say "boo hoo WotC needs to fix this" or that it's something wrong or broken with 4e, because it's not. It's a mathematically sound, structured set of numbers to build encounters by and I'm positive a ton of science went into it's creation. Also if you keep reading you'll see that I haven't entirely 100% thrown out the XP budget. I talked a bit about this on the most recent Fourthcore podcast but I'm delving a bit deeper here. I believe it's a good general bit of encounter design advice to use regardless of wether you run an amped up fourthcore game or not, because regardless of difficulty, setting or tone encounters should grab your players and immerse them in the game.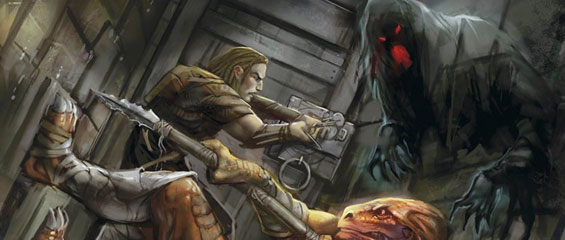 Let me also make it very clear that even when building encounters by this budget I'm always going 2-3 levels over the target allotment for my group. The DMG and other DM related literature states that if you hit the XP budget right on the nose, your PC's will likely expend some resources to accomplish overcoming it such as spending a healing surge or use a potion or something, but will mostly likely prevail.
This is cool and all but that's usually not what I'm going for. To make reference – I'm certain Hahn, Luke, Chewy & Leia didn't get dumped into a lethally crushing trash compactor with a tentacle monster in the sludge water because George Lucas really wanted the audience to worry about them getting their clothes soiled and wet.
Disclaimer: My Two Cents
Suspense grows from risk, real threats/challenges are what power climactic moments in film, games and great books. If you're designing every encounter right at the target level XP budget for your players you might be boring them, not to mention they'll probably catch on to that fact eventually and simply coast through every fight spamming at-wills and playing with their phones while they await their next turn.
Also relying on that 'optimal' budget for your PC's means you might not be challening them nor expending their resources. If you are expending their resources with the 'target level' XP budget you might be running so many encounters that your entire session(s) are almost pure combat and/or skill challenges. Expending player resources is an important aspect of risk and suspense, think of hoarding bullets in Resident Evil because every last one counts…same should go for healing potions in D&D.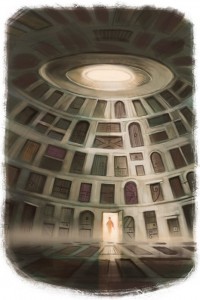 Expending player resources is an editorial for another day however, so let's move on to the sum of this thought: I've learned that designing encounters is about quality memorable interactions between the PC's and the world they reside in – more so than frequency, quantity or reliability.
Layering Your Encounters
Creating a great encounter should encompass all 5 of the PC's senses as well as the emotions of your players, captivate them with an epic scene from a great movie in their minds eye, it's what we all shoot for right? Sit down and ask yourself "How can I make this unique, fun, engrossing and feel as if it actually matters" when creating your next encounter.
Think about what type of monsters would inhabit this place? What would the terrain be like? What type of threats (and how many) layer onto the creatures/NPC's in this area? If non-combat then "Why is the King acting this way?" "What would the count do if he were to notice a PC looking toward his daughter?" "Is this NPC prejudice against Tieflings?" and so on. Encounters should have layers to them, creating a good set of layers often means the XP budget is going to 'yell' at you.
What I'm getting at is, if you know you want an encounter where the PC's meet some resistance on their way back into town via some gnolls are awaiting them on a bridge then that's that. But what if they have to practically bump into them face to face and are met with snarling teeth and yellow eyes because there is a torrential downpour that obscures visibility beyond belief as they are crossing that bridge? Perhaps the only thing that alludes the PC's to the gnolls presence are seeing their silhouettes through the flashes of lightning?
And of course it's not a normal bridge, it's worn in places and may crumble beneath ones feet or be extremely slippery, how does lightning damage work in a rainstorm? What if there's a catapult mere yards away that could be used to destroy the bridge or stem the tide of gnolls by crushing dozens of them. Are there dozens? Is there a Gnoll leader with immense strength and a shaman at his side constantly ressurrecting the fallen?
Budget Schmudget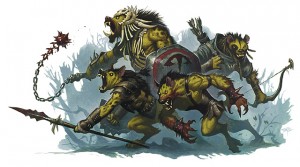 That example alone could have very well been "8 Gnolls on a Bridge, 1 brute, 1 controller, 6 minions" hit the XP budget on the nose and been a done deal. But if you start with ignoring that XP budget and really think about how to make an engrossing encounter that really adds flavor to your world.
Sure the crumbling/slippery bridge and lightning strike hazards, piled on top of a much higher level shaman guarded by a big sack of HP and using soldiers instead of minions is probably way over your XP budget but it sure sounds like more fun to me.
Who's to say all those XP budgeted hazards will even be used, or that the strikers won't completely blow up the shaman before it gets to do much else or do something else totally unexpected. Giving players choices that matter in the heat of combat usually break the budget, but they also make for much more dynamic encounters.
Begin your encounter design with those things in mind, instead of a metagame-centric XP budget (not that there's anything wrong with meta game elements) and you may pleasantly surprise yourself. When it's all said and done, if you're not entirely sure about the outcome go back and reference the XP budget if you'd like to see where your "difficulty" lies. This still gives you the option to create additional outs for the PC's, alternative goals or ways to avoid certain hazards and the like, or I suppose dial it down a notch. If you can't forget the XP budget entirely, then at least put it as one of the last things to reference on your encounter building priority list.
So have a go at it, if you dare. Be sure to head back here and tell me about it if so, and if you've already tried it or already do this I'd love to hear about your experiences in the comments below!