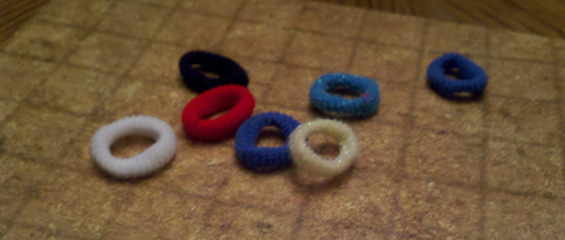 I see your Alea tools, and I raise you a pack of Goody brand child size elastic hair ties! These things will run you 5$, not 70 and you won't have to magnetize any mini's either. If there's any one thing I'm good at it's being a cheap ass which is why I've decided to start a regular column I'll be entitling "CheapassDM" because a witty prefix to "DM" is the only way to go in case you were unaware!
Granted this isn't really an alternative to Alea tools as they aren't nearly as eloquent, nor can you stack them beneath the base of mini's with any sort of usable result. They are around the perfect size for D&D miniatures however and you can easily hang or bind them around your mini's depending on which conditions may be effecting them, even most "medium" size class miniatures don't have problems. They also stretch to the perfect size to wrap around the base of medium size mini's also!
I'm a ware this has probably been done before, or that there are a literal F-ton more ways of making cheap condition markers but I thought I'd pass on one of my solutions just in case it might help others out. I look forward to making this a regular thing, so until next time fellow gamers, play thriftily!
Update: The actual product I'm using here are called "gentle ponytailers" made for babies/toddlers, we bought a pack for my daughter (I believe it was 50-100) for 5$ at our local walmart. Also added a link to Alea tools within the article.