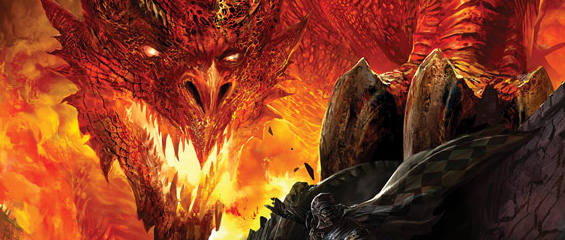 Is "Core" Purely Mechanical?
So when sitting down to think about the "core" of Dungeons & Dragons I thought to myself about what really makes D&D, D&D. While much die rolling and resolution mechanics came to mind I tried to expand outward more, and I think one thing I'm always forgetting about is modules. There is a lot to be learned from running published adventures and I think the core of the game actually has a lot to do with adventure modules. Here's why…
Iconic Adventures
[image_frame style="framed_shadow" align="right" height="196″ width="276″]https://dreadgazebo.net/wp-content/uploads/2012/01/6.jpg[/image_frame] For some people, adventures
were
 their entire D&D experience / heyday, whether it was
Keep on the Borderlands
,
The Tomb of Horrors
, or asmodeus-forbid 
Expedition to the Barrier Peaks.
Adventure modules are encapsulated bundles of pure nostalgic joy for some people and perhaps the sole reason they ever gave D&D a chance, or kept them coming back to the game – because lets face it, not all GM's are able to
craft a great adventure and keep their shit together simultaneously
. Adventure modules are almost a guaranteed avenue for fun and excitement for a lot of groups.
Certain adventures leave a name for themselves on the face of D&D that changes the way the entire game is perceived for some, they are constantly being updated, re-explored, expanded upon and reinvented. The modules named above are just a few examples of this, they are prolific, they are our 'cult classics' and they mean a lot, to a lot of people. Which brings me to my next point.
Ubiquitous Adventure Modules?
[image_frame style="framed_shadow" align="left" alt="D&D's "Many Eyes" approach" title="D&D's "Many Eyes" approach" height="339″ width="188″]https://dreadgazebo.net/wp-content/uploads/2012/01/14.jpg[/image_frame] Surely when talking D&DNext I'm not ruling out that there cannot be room for new adventures to herald in another era adventuring awesomeness or become an icon, I truly hope there is. Think though, since 4e's launch have there really been any adventure modules come out only to be marked as 
one of the greats?
Perhaps it's too early to tell. Personally I believe some of the best material produced for 4e has been a revisit to things like the
Tomb of Horrors
,
Hidden Shrine of Tamoachan
, the
Dark Sun
setting and the updated
Gamma World.
When things get re-written for another edition, a lot of stuff has to be approached from a standpoint of retaining that certain adventure module's feel being carried over well into whatever the new rule set is, and as much as we'd like to think that a story is just a story – a lot of these modules brought their own mechanical feel to the game. Wether we like it or not, adventures are often tied to mechanics, so how do we write (and update old) adventures to suit an omnipotent rule set?
This isn't really a question of adventure's being re-hashed or new ones being created though, it is a question of how will these things be presented? Regardless of their origin, will adventures for a modular D&D need to be written in a manner vastly different from previous editions in order to pull off the one-size-fits-all approach? I think there's a few ways this might be done:
[fancy_list style="plus_list" variation="red"]
Modularized Adventures: Will these adventures take the "Use combat module A, Loot system C for running this adventure module" approach? Or perhaps a "This module is intended for XYZ, but if you wish to use different options consider the following…"
Interpretive Style: Perhaps adventure modules will do something along the lines of just explaining things as plainly as possible and allowing the DM to use their box of tools and knowledge presented in the DMG to determine the best way to run things? Surely this approach would not be friendly to newbie DM's and folks who appreciate being directed, at least moderately.
Reprints & Conversion Materials: Will we only see reprints of old modules and perhaps a set of resources for converting them over to run. However if this is the case, what about new modules? Will they get a different approach and the left be rest behind in a sort of grandfathered method?
Something Else: I'm sure there's a lot I'm not thinking of here, because I'm not very bright.
[/fancy_list]
What do you think? How in the heck are we going to pull this off, as gamers? As writers? Let me know in whatever way you feel comfortable.