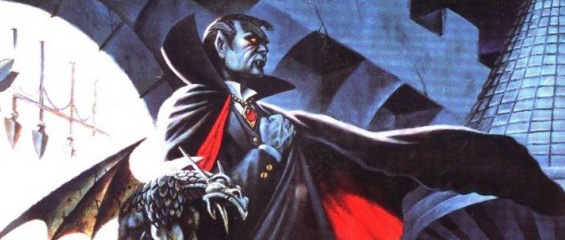 Time to End It All
I think it's time for a bit of purging by fire, or in the case of my campaign: vampiric slaughter. When I first started my game things were relatively simple and everyone was happy with their character. Sessions were met with anticipation and enthusiasm, plot points were pondered and everyone had a strong character concept. This isn't the case anymore, and it's becoming very un-fun for my two most important players: my wife, and myself.
I've sat down and had talks with my players, I've tried to remedy things both in and out of game but nothing seems to work. I've taken cues from some of the smartest, most experienced DMs I know. Still, results are just getting worse. I didn't expect great things to happen overnight but I didn't foresee them going further downhill. No one quite cares nearly as much as they used to (not that some seemed to care that much to begin with).
No one seems to appreciate the work I put into our game. Sure I get a "thanks, session was fun" at the end of the night but it's nothing beyond an obligatory courtesy, like tipping the pizza guy. If it weren't for me leveling up and printing everyone's character sheet and pestering people about our next game, they'd all still be level 5 and we'd have played a handful of times. No one looks or thinks about our game in any of the time in between sessions (or during?) but myself it seems, and I'm sick of it. Aside from what I've just mentioned here, read my lamentations below.
Points of Contention
[info_box]Disclaimer: Mention of "everyone" is a generalization and not literal in all cases. Also, be warned: overuse of profanity lies ahead.[/info_box]
Loot has gotten out of hand and coin has been disregarded entirely. All loot given to my players is met with mild shrugs or "oh that's cool" and not much more (even fourthcore armory items), no one really keeps track of how much money the party has until just recently and it's still fuzzy at best it seems. The coin my players come across is hoarded anyway, so why give them any? It's fucking Ravenloft, stock up on survival supplies right? Nope, healing potions are completely forgotten and the vistani are bargained with in attempts to save a few coin. Boy is that going to have horrible repercussions for my players in the very near future.
To top it off, no one knows what items they have, and if they do, no one knows who carries them. From character sheet to character sheet, the record keeping is piss poor. I used to keep track of all their loot so they could easily reference it on OP, but getting anyone to read anything I put on there is like pulling teeth.
Everyone is either "Unaligned" or "Good" in my game, yet everyone's character is rather morally gray leaning towards being chaotic asshole. Every other living being is killed, coerced, tricked or stolen from and in a world full of evil I understand most people are not to be trusted but it's a bit unreasonable at times. Deeds like these have to creep into your soul at least a bit yeah? Dark power checks for everyone! If snuggles the fucking bear came waddling along they'd not think twice about plundering his plushy innards for coin (which in turn they'd never goddamn use)
I have to special request or put out multiple grumpy-DM cues just to get the TV turned off when we play. The chance of having everyone paying attention simultaneously is slim to none, maybe that comes with the territory though. I allow all sorts of custom rule-bending on behalf of everyone having fun but now it's just expected of me and I kind of feel like I'm being walked all over.
What's in the Cards?
I'm running the wrong game, possibly with the wrong people. Ravenloft is a setting probably far too serious for the play group that I have. I should just make a generic setting where there are drunken dwarves all over the place and people who need you to save their flock of sheep from the orc bandits or some other such generic bullshit. It's mentally taxing being so invested in something that so few people could honestly seem to give a shit less about. The game I envision is not the one they are envisioning, thus this is not working.
Have I given them too much loot, or too many beneficial circumstances so that they somehow manage to steamroll every hard encounter I put them up against? Perhaps. Perhaps it's partly because 4e is structured around PC's having the softest, most cozy toilet paper life has to offer them. You know, the kind with the little butterflies embroidered on it?
Have I overdone the sense of dread or futility that Ravenloft emanates? Possibly. Or perhaps all of my players have murderous paranoia etched deep into their psyche somewhere that compels them to kill anything that moves. Regardless of placing fault, neither of these elements should really make my players lazy sods who don't care much about what I'm spending precious hours of my life preparing for them though, right? I could be playing video games, taking naps, playing with my kids (who appreciate my DM'ing mind you) or spending time with my wife who is far too beautiful and awesome to even humor me for a few hours, let alone spend the rest of her life with me.
All Is Well That Ends…Well?
It's time for an encounter so insanely ridiculous they'll either have to expend every last drop of their consumables, every coin their copper pinching fingers can rub together, every last healing surge, daily power and all the player knowledge they can muster or die horribly. Mangled, exsanguinated, demoralized and completely taken by surprise – then and only then would I feel somewhat redeemed.
Perhaps then we can  start on a fresh slate, with knowledge of the setting and what lies ahead of them making for characters involved in the setting instead of all being strangers cast into an uknown land. It might make for a DM/Player leveled playing field once again where everyone is on the same page with expectations.
Either that or I'll run a beer and pretzels game with a totally gonzo plot. Hell, maybe I'll run Gamma World. Maybe I'll say fuck it and go back to playing video games, at least when people are assholes there I can just mute them or find a new game in a matter of seconds.