Lingering Shadows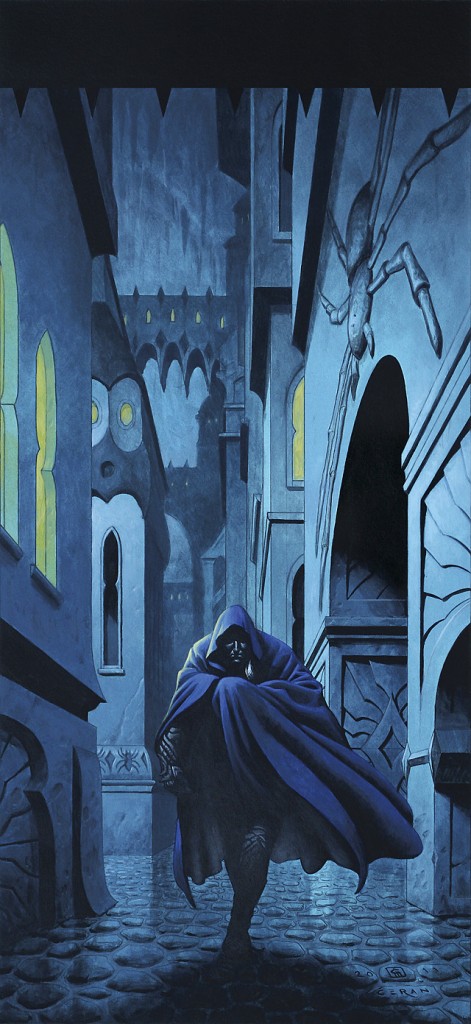 Continuing from where I left off yesterday (decided to make this a two parter), I'm going to delve into the few things here that have bugged me. A recent article by Mike Mearls addressed some of my concerns with how much they are focusing on the math right now, and trying to solve people's problems before they even arise, if they arise – which is great. I don't really buy into the 5 minute work day though, as it was never a problem in my games. What was a problem was resting restoring PC's to full health and basically ridding them of any negative effects aside from a few diseases. Diseases in 4e were about as virulent as the common cold.
However I still can't help but find a few bits that leave me worried. Particularly the words "a rogue's ability to be stealthy needs to be matched up against the invisibility spell." Does it? This is the kind of "everyone should be able to do things just as good as everyone else" mentality that I feel is siphoned fun and uniqueness from 4e, and it bugs me so much. Stealth shouldn't be nearly as powerful as invisibility, there are a lot of pros and cons to both of these mechanics and I hope they aren't trying to bleed them together into some ubiquitous bolded fucking keyword.
There's also a handful of abilities within the playtest documents that just seem extremely overpowered/broken to me. I understand that this is possibly just due to the lack of playtesting or refinement and that this is our job to give feedback on these sorts of things. Maybe it's also just because every class needs a few "whammy" spells/abilities to really give them something to brag about. I'm totally cool with that, I just can't help but have this lingering thought in the back of my head that somehow, through all of these playtest iterations and feedback that D&DNext PC's will wind up with their safetey net diapers and godlike attributes. I'm just going to keep my fingers crossed and keep assuring myself that I'm worrying over nothing when it comes to this stuff.
Getting Nostalic About Yesterday
No I'm not about to go on a rant about the 3e reprints, don't worry. I'm going to reflect on 4e's merits and modern elements of  design. It was sleek and optimized, a real clean cut way to handle a lot of in-game situations and made jumping into the game as a player or a DM absurdly easy. I'd call 4e an innovator in a lot of categories, it is an elegant system no matter how many people get all "this isn't the D&D I remember!" about it. I'm not sure about you, but I get sick of playing the same game over and over – hello Assassin's Creed, Halo, and every other AAA title video game out there. I understand that these are aimed to sell, and not to innovate, because innovation is often a gamble in the gaming industry and people sure do like having paychecks.
So 4e did what other editions didn't and innovated quite boldly, it took a gamble. Did it succeed? Who's to say, really. No matter though, if you really look back, haven't all of the editions been innovators in one way or another? We glean information that wouldn't be possible to obtain in any other way by doing this. The real question is are we learning to eventually hone our games into a razor sharp blades of fun, or are we driving them into the ground so badly that we hope they stay buried forever? I love seeing 4e elements in the playtest, but so far aside from the monster stat blocks, most of those 4e bits I've seen haven't been the ones I'm very fond of.
The Road Ahead
Is this is D&D's final hour? I hope simply rehasing ideas from old editions isn't the only new hat we can muster. I'm sure that's not the case, because so far the innovation seems high, the game is in good hands, and the open playtesting model seems to be a successful one – but I can't help but shake these few nagging feelings. Am I hyper analyzing here? Paranoid? Probably. I just hope that the "gamers are dumb, we should hold their hands through this entire experience" undertones have been completely scrubbed from the drawing boards of  D&D's intrepid designers.
I remain in good faith though, in the closing of Mike's article he states: "Our job as designers is not to tell you how to play, but to give you the ability to run a game that matches what you want out of D&D." So it seems like the mission of 5e is still holding true, it's good to hear and the mentality behind the game's design is like a breath of fresh air. Though I'll admit I'm a bit torn on the idea of making a game for everyone, versus making one that is D&D. I like my games like I like my friends, I'd rather have them scream "Hey, this is who I am, take it or leave it!" with a dash of adaptability/humility, than one that tries to be everything to everyone – because we all know how that turns out. That sounds like a blog post for another day though!
Speaking of which, tomorrow I've got a tough decision to make, and I'll be taking all the advice I can get before making it so stay tuned – I'll be calling on my readers for some honest to goodness advice. Thanks for reading, I'll talk to you all then.