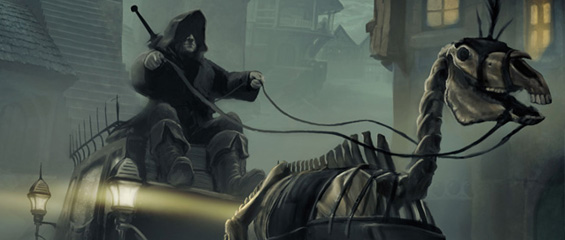 The Beginning of the End
So the last you all heard from me, my game was falling apart because of this post. I was aware of possible repercussions when I wrote it but, honestly thought none of my players would actually read it. It was therapeutic at the time and while I have no regrets in writing it, it was rather one sided and rash. I really should have made it a two part post, detailing my gripes and then following up by detailing my own missteps in being a DM (and a friend).
So, quite a few days late and and many dollars short I'm here to do exactly that, hoping that my experience can help someone else keep from pushing the self-destruct button on their own campaign. It won't turn back the clock or give me my group back, but I can at least have peace of mind knowing I openly admitted I was a dick, and hopefully at least one of you out there can benefit from my follies in some way.
Parting Ways
I ruined D&D. Our game night was the only night my friends and I had to all get together and unwind, shoot the shit and talk about our ever-changing adult lives, work, kids, you name it. I took that away from us, I took it away because I didn't want to unwind, I wanted to run SuperSeriousLoft Dungeons & Dragons. Subjecting my friends to my very narrow view of entertainment, permanently wedged somewhere between Nightmare Before Christmas and Dawn of the Dead.
I didn't want laughs, gnome jokes, dragons or even many dungeons. I just wanted to evoke an atmosphere of bleak hopelessness, stark reminders that everything within the game kinda sucked and that there was no escape, that it was only a matter of time before death claimed them. Its a shame that description bears so closely to our own reality. This alone is one of the many problems that contributed to me ruining my own game, along with not having any sort of group cohesion, big picture collaboration, open communication channels or ensuring that real life was always separated from game time.
Our group started small, it grew from there and took in many members for at least a handful of sessions, but at its core were the 4 of us – myself, my wife, my best friend and his wife. Our group swelled to 6 players at times and we had no real method of integrating new people and phasing old ones out, which is also something I should have handled a bit more gracefully. Granted there are numerous things that probably contributed to the innerworkings of all the why and how here, but I'm not going to talk about them because this is a gaming blog after all, not Livejournal. Anyway, let's get onto the actual advice, shall we?
Fix Your Game (And That Bad Attitude)
What this all boiled down to, for me was one simple statement: I should have been playing "our" game, not mine. I found it easy to get wrapped up in what I was into, my wants and desires took precedence over all of the players.
For example, they wanted a hideout to call their own, it probably took me 6 sessions to get it written into the story because their idea of taking over the tavern in Barovia as their home base wasn't to my liking. But this was only the tip of the giant misty icebergs folks, behold my bulleted pearls of hindsight driven wisdom:
[fancy_list style="check_list" variation="red"]
Before you start a new campaign have a session or two dedicated to just deciding what kind of game everyone wants to play. This alone can help tremendously, setting your campaign in a solid foundation can only help bolster it against these sorts of dramatic things as time goes on. My biggest regret of my Ravenloft campaign was saying "we're going to play in Ravenloft. It will be awesome" instead of "How does Ravenloft sound to you guys?"
Make sure your players are happy with the class they are playing, a player 'settling' to play a certain class is bad news. Chances are that somewhere midway through your game they will grow unhappy and lose interest in the game. There are more than enough choices to pick from, try and include this in your pre-planning sessions to ensure everyone is happy.
Taking a page from Micah Wedemeyer's book, set up your sessions an hour or half an hour early to get all the BS'ing out of the way ahead of time. All that talk about work, youtube videos and kids can mostly be unclogged from everyone's brains before hand, allowing for more focus on the game when the time actually comes.
Every session, bring your best game to the table. To take directly from Mike Shea's book: "The most important adventure you will ever run is your very next one". Don't plan sessions far ahead, your players will have strayed too much from your idealized path by then. Surely don't do as I did and prep sessions 6 hours before the game started, you wind up with random, uninspired, senseless drivel. Block out a time to prep your game and stick to it.
A direct result of poor planning meant most of my combat encounters felt flat, make sure every combat has purpose within your story. Why are the enemies there and what do they want? Have them behave as they would, taking opportunity attacks and running away when things don't go their way. Include skill challenges during combat so there is more to think about than just which power they are going to use on their next turn. Don't be afraid to make some enemies pushovers, especially in a world like Ravenloft, PC's need a good ego boost now and then.
Make loot spectacular and less frequent, take a page from Mordankainen's Magnificent Emporium and make items a focal point. "Holy shit, a magic ring?!" should be exclaimed at your table instead of the having your PC's haphazardly dump it into their color-coded sacks full of +1 items "No Krusk, flaming swords go in the GREEN satchel". I'm currently trying out inherent bonuses it's working out splendidly.
Break the rules, often. Let your players do whatever they want – especially in combat. If they want something the rules don't cover, make it up for them. 4th edition tends to not lend itself well to roleplay due to the mechanical nature of the tone it's written in. Make sure your players know there is more to the game than squares, types of actions, conditions, and damage dice.
Live and die by "Rule Zero", this should go without being said, but hinging off of breaking the rules and creating your own mentioned above, I think it needs to be restated. Every iteration of D&D gives advice on these matters, for good reason. As long as everyone is having a good time, you're doing it right.
[/fancy_list]
Every End Is A New Beginning
I may have been a bit hard on myself here, as my players have repeatedly assured me they had fun each and every session. Then again, everyone is their own worst critic right? Though from the ashes of my Ravenloft campaign, I have emerged a wiser, more adept and perhaps better DM overall.
I'm currently testing the waters of a new group comprised of friends both old and new, including the one I thought I completely pissed off just a few months ago. We're having a lot of fun and I've got some great 4e houserules cooked up I'll be sharing with you all very soon. I've got so much interest stirred that I'm aiming for two separate groups, one of which I hopefully won't be DM'ing because my lovely wife has expressed so much interest in taking the reigns! And who knows, maybe someday we'll revisit the dread plane.
On a more personal note, in the past 2 months or so I've lost a close friend of mine, had my website hacked… twice (see note in footer) and completely rebuilt twice, sent my son to kindergarten, watched the last of my friends get married and finished a huge project at my dayjob. I'm still adapting to some of the changes but I think the initial shell shock is over with, so it's time to get back to moving forward.
On The Horizon
I've got lots of articles in the works as the spark for blogging has re-lit a giant fire elemental right under my ass. Upcoming articles include but are not limited to: "You got your M:TG in my D&D", an exclusive interview with Steve Townshend about the upcoming Heroes of the Feywild, a review of the latest D&D boardgame "The Legend of Drizz't", my "Gazebo Rules" 'official' houserules for 4e.
I'll also be publishing my full scale adventure and Halloween one shot from this year – "FLAPS: Episode 1". The Dread Compendium is also still on my workbench for release in 2012, hopefully a year of big things for me. Including being published for the first time, yeah that's right, keep your fingers crossed for me, I should have some of my work showing up in the next issue of Kobold Quarterly!