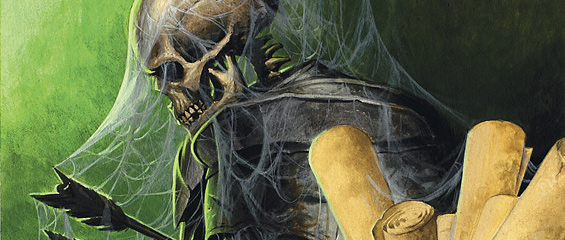 Save Vs. Options
So. If you've read my posts from earlier this week or follow me on twitter you probably know that I'm in a bit of  a tough spot with trying to figure out what game to play for my about-to-kick off weeknight campaign. I have no plans of stopping playtesting D&DNext but I really don't think it is going to work for an ongoing campaign, at least not until more material is released.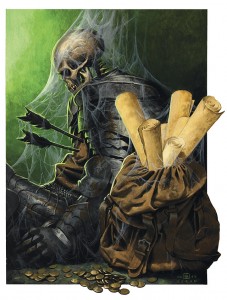 The problem isn't with the rules, or anything about the game itself really aside from the rules being kind of ephemeral as the playtest iterations roll out but those are usually minor things and isn't anything that would stop my group from playing. The problem is the slim amount of classes, themes, backgrounds, monsters, and low levels. Normally I'd just create my own content for the game and chug along, which I have already done to some extent – but the fact of the matter is that I don't have the time to devote myself to that right now and my players (and I) want a solid ongoing game with lots of options.
Character creation rules aren't even an issue, if there was just some more variety in the pregens we could probably cope – but we've been playtesting since shortly after the announcement. I have more than 4 players so we end up with duplicate classes, and not that there is anything wrong with the core 4 classes but my group demands more variety.
Finding The Right Game
So, does this mean if I pick up some other game I'll be writing off 5e? Not hardly, but I need an interim game to fill in the gaps until a solid release comes for D&DNext. Maybe not even the final product, but one very close to done would be optimal. I need druids, and sorcerers, and level progression that extends beyond 3! I need a campaign I can run with for hopefully a year or more, I still plan on playtesting too – but as one shots on the weekends and such. I'd love to play a game like gamma world, or shadowrun, or a modern post-apoc game, or even Warhammer 40k. But I'd be playing those alone, so for now my group is sticking to high fantasy until I can convince them otherwise.
I've got a lot of suggestions over the past few days about what to play, and started with a few ideas of my own. I rounded up my options here and laid out my thoughts via pros and cons for you to all. So please, tell me what I'm missing, give me suggestions, or just tell me to suck it up and stick to my D&DNext guns. Looking forward to your comments!
[fancy_table]
| | | |
| --- | --- | --- |
| Game | Pros | Cons |
| DD&D Next | Great system so far, it's D&D, familarity, simple. | Only 4 classes right now, 5 pregens and a level cap of 3. I've been at this for 4-5 months now. |
| Dragon Age | Immensely fun, fast, simple, stunts! | 3 Classes, different styles of each but still…3 classes. Setting is somewhat baked in, extra work to make it my own. |
| Dungeon World | Narrative focused, adaptable, fresh. | 4 core classes and one playtest druid. Will have to wait a month for full rules release w/ more classes |
| Pathfinder | Familiar, well supported, lost of material and aides, it's basically D&D | It's still basically 3.x which I'm not super fond of |
| Dungeon Crawl Classics | Cool artwork, gnarly mustaches, weird dice? | I'm not a masochist. The rulebook is laid out like a ransom note, and I can only take so much gygax fetishism. |
| 13th Age | I'm told I would like it, it's very D&D-like, escalation die! | Still not fully released yet, not positive I'd like it. Personal reservations. |
| GURPS | Steve Jackson makes cool stuff. | The name sounds like a horrible disease and I'm not sure I'm up for plundering all of those pages |
| Savage Worlds | Fun system, I love edges and flaws, love the progression. | Not sure how well it does high fantasy after reading it all, magic system is unappealing to me. |
| Song of Ice And Fire RPG | Seems fun, Schwalb wrote it, I love Game of Thrones | Might be too low-magic, I wouldn't do westeros justice, incest. |
[/fancy_table]
So, loyal readers – what is a nerd to do?