The Time Has Come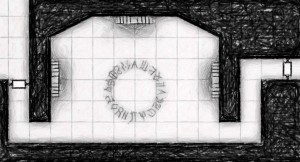 But where is it going? Forward? Backwards? It could go either way inside the fortress, a chamber sure to set ripples throughout more than just the delve itself. Check out today's final preview of one of the inner chambers of Fortress of the Ur-Mage, Passage of Time.
Preview – Passage-Of-Time
Win A Copy!
In case you've been away for a while, be sure to check out the previous 2 days of coverage on Fortress of the Ur-Mage from SVD Press. We took a look at The Golden Vestibule, and Annihilator. The adventure releases tomorrow, and will be available for purchase at the SVD Press Storefront. Leave us a comment below telling us what YOU would do with the wand of death, and you'll be entered to win a copy of Fortress of the Ur-Mage! Good luck, crusaders!