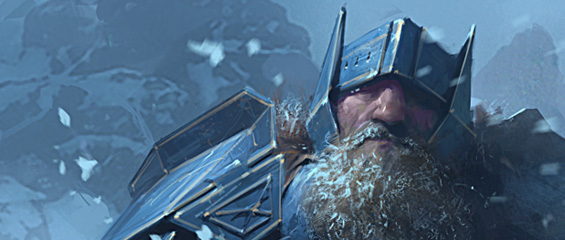 Feedback Encouraged
Well I'd hoped to bring these cool Dwarven Utility powers to you through other means than my blog, alas there are times in life when a cast iron stomach really does come in handy and so this seems to be the only way any of you will ever see them. I do hope you like/use them and I also hope they stand up in cool factor against Rob Schwalb's newly published ones via DDI! You'll find 4e stat block images of each power after the rich text at the bottom of this post, enjoy!
Subterranean Clarity     Dwarf Utility 2
Innate sense of stone and knowledge of underground structures make for comfort in the strangest of places.
Encounter
Free Action     Personal
Effect: You may use dungeoneering in place of your next nature, perception or thievery check.
* * * *
Nose for Gold
    Dwarf Utility 6
Many fragrances linger in the nostrils of dwarves, treasure being the sweetest of those scents.
At-Will
Standard Action     Close
Burst 20
Effect:
Your honed senses allow you to obtain knowledge regarding the concentration, direction, age and quality of precious metals and minerals within range.
* * * *
Hewn Resourcefulness
    Dwarf Utility 10
The fine craftsmanship that courses through your veins quickly gets you through a pinch.
Daily
Martial
Standard Action     Personal
Effect:
You may perform the Temporary Fix martial practice free of cost and regardless of training in martial practices. In addition you gain a +2 bonus to your next thievery, acrobatics or athletics check.
* * * *
Dwarven Guidance
    Dwarf Utility 16
Aye! Follow me, an' quit yer' blabberin'!
Encounter
Standard Action     Personal
Effect:
While underground or within a stone or metal structure you may make a perception check with an additional +5 bonus to determine which direction is upward, north, how deep underground you are and the age and origin of surrounding architecture.
Special:
You may use dungeoneering or nature in place of perception when making this check.
* * * *
Child of Stone
    Dwarf Utility 22
You manifest as the very stone you were created from aeons ago.
Daily
Free Action     Personal
Effect:
Gain a +5 to AC and Fortitude until the end of the encounter. For all purposes you are petrified, however you are not considered unconscious. Also, for the remainder of the encounter forced movement is considered optional for you.
* * * *