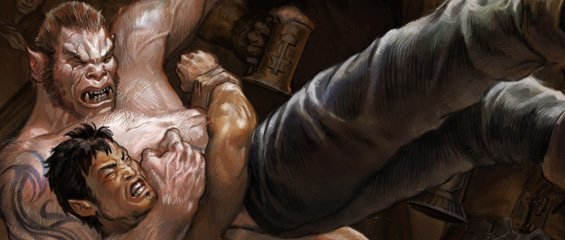 My Inner Struggle
I'm on twitter a lot conversing with other DM's, players and other gaming types but when it comes to DM's I find that I'm constantly comparing myself to them. This is an aspect of my personality that I've never quite been able to avoid, my whole life I've walked around comparing my life to that of my friends, what kind of car I drive, my living status, relationship status, etc. Now I'm even comparing myself to other gamers I read about online? I read about, see videos of or have actually had the experience of playing with them and I somehow always walk away feeling like a chump that can't run his game worth a shit.
I'm constantly saying things to my players like "you know if you want to have someone else run a game that's fine" or "I'm glad you guys actually seem excited to play" which is always followed by things like "we're always excited to play, what are you talking about?" I can never actually convince myself that my players are having fun though, maybe they only are because they don't read blogs and absorb tabletop gaming media like I do. Hell they don't read blogs at all, I'm lucky if they respond to an email I sent two weeks ago.
If there's one thing I've learned since re-taking the DM reigns, it's something learned early on from NewbieDM: "don't try to be Tolkien". I've made that mistake in the past but with my new campaign I thought I had it all figured out, but now I'm just faced with a purely defeatist attitude.
The Alpha DM
One of the guys in my gaming group is a veteran of 20+ years and has experience in many different systems and settings, when he runs a one-off everyone is super captivated and always has a blast (including myself). I know it's a big deal because when he runs a game, people even shut the goddamned TV off and don't spend half the night making remarks about the silly haircuts and wardrobe that adorn the On-Demand 80's music channel on Comcast.
When I run a regular game I can't seem to command the level of dedication or involvement that I'd like from any of my players. Mind you I won't even bother delving into how many one shots I've run that turned into Apples to Apples games within 30 minutes. This always leaves me thinking "what am I doing wrong?" I have super cool props, appropriate minis for everyone, I let them run wild with where they want the story to go (within reason, I still have the reigns), I bring music for scenes & battles, combat is fast. I even introduce nifty house rules that everyone seems to enjoy and I tell a story that the players really seem to care about…when they're actually paying attention.
Getting a game together has been harder and harder lately and I'm honestly to the point where I feel like spending hours of prep work to have pissed away repeating myself or reminding people their character can do X, Y or Z. After all I'm not nearly half as interesting as everyone else I know or read about – I'm not doing different voices for NPC's, running some epic mind expanding Cthulhu-esque game or letting my players control dragons and overturn masterfully crafted political plots. They are poking around killing dead things that are already dead while I attempt to woo them with pretty widgets.
All Show is No Show
Am I breaking my own cardinal rule here? The header above this paragraph is something I strive to live my life by, but is it all wrong? Am I trying too hard? Not hard enough? Everyone says they are happy playing my campaign but I'm continually unimpressed with myself in comparison to everything else I read about online. I always think my game is super cool until I hear about someone elses. Does anyone else have these problems? Should I just ignore the internet? Should I just resort to drinking profusely while I DM? All manner of advice is welcome.
Disclaimer: My wife, who is awesome. Is not a problem at my table, other than being a distraction due to cuteness.